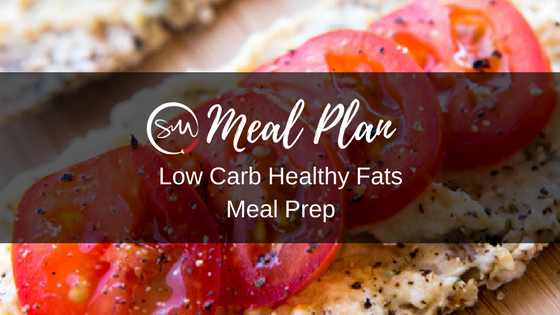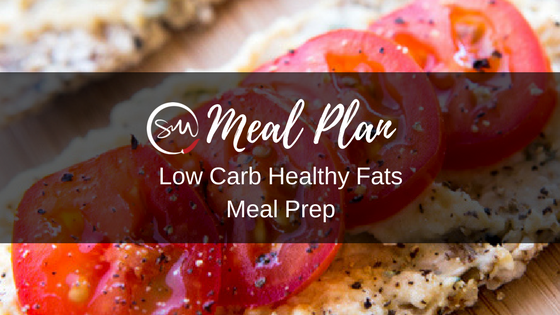 Breakfasts
Smokey Baked Beans with mushrooms in place of beans. Lasts 3 days. First day is bacon, eggs and baked beans. The other 2 days you can poach eggs in it on the stove to heat it up.

2 x cooked breakfasts
2 x Blueberry Protein Smoothie from 'The Healthy Mix'. Sweetener removed and frozen raspberries can be used instead of blueberries.
Lunches
2 days of Bacon and Vegetable soup from 'The Healthy Mix' with LCHF adaptions. Made in advance and frozen in portions.

2 days Peri Peri chicken tenders with a simple salad of parsley, cucumber, olives, tomato and haloumi. Marinate the chicken and then freeze in portions. Take the chicken out in the morning and freshly grill with haloumi at lunch. Don't forget the fresh lemon juice and parsley for the Peri Peri Chicken!
Curried Egg Spread from 'The Healthy Mix' with cucumber sticks and some cheese.
Fat head pizza leftovers
Roast dinner leftovers
Dinners
Middle Eastern Chicken tenders with zucchini and broccoli. You can serve it with some silky sweet potato mash for kids or other family members not doing LCHF. The chicken tenders can be pre-marinated and frozen in portions.

Picadillo chicken with Chile Con Queso and Guacamole, made into a Mexican stack. You can cook the chicken in advance and freeze in portions. You can serve it in wraps to the kids or rest of the family.
Steak topped with Chile Con Queso, simple salad topped with Guacamole. This is great served with leftover Silky Sweet Potato Mash for the rest of the family.
Fat head pizza topped with Picadillo chicken, olives, mushrooms and Chile Con Queso. Kids have pita pizza with chicken and other toppings.
Thai Red Curry with prawns and green vegetables. Prepare your Thai Red Curry Paste in advance and freeze in portions.
LCHF Chicken Kievs with steamed green vegetables. This goes perfectly with roast Jap pumpkin or the silky sweet potato mash for the rest of the family. Prepare a stash of Chicken Kievs to keep in the freezer for easy mid-week meals. Freeze raw and bake from frozen as per the recipe notes.
Pork belly cooked in the air fryer with roast Jap pumpkin and zucchini. You can add potatoes and corn on the cob for the kids. Simply pre-heat the air fryer to 200 degrees and cook for 30 minutes. Score, oil and salt the rind first for the best pork crackle.
Snacks
The LCHF variation of the No Fat Tomato Soup from 'The Healthy Mix' is fantastic for snacks, lunches, fussy kid meal replacements and to have on hand in the freezer. For the non-LCHF family members you can add pasta and top with cheese.

Seed crackers and cheese are a great snack to keep on hand. There is a great basic seed cracker recipe in The Skinnymixers Guide to Entertaining.