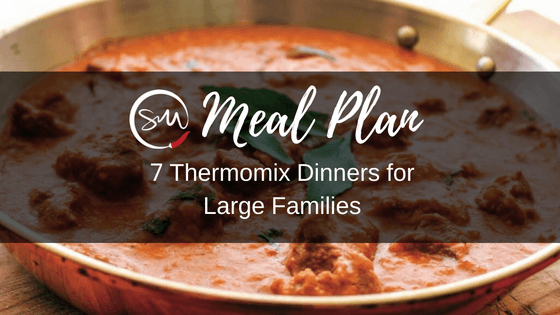 Hi! Tash here…
With a large family of 6 which includes 3 teenage boys and a threenager (girl), I find most Thermomix recipes just don't make enough as they cater for 4 serves at most. Since I don't have 2 Thermomixers, I've needed to find recipes that feed all of us comfortably or recipes that complement each other that either don't take all day to cook or can be cooked in other appliances. I also try to plan meals for the week that use the same fresh and dairy ingredients to minimise wastage and keep costs down.

---
SATURDAY
Fakeaway "works" burgers Skinnymixer's American Burger Patties with Thermobexta's Best Ever Potato Wedges.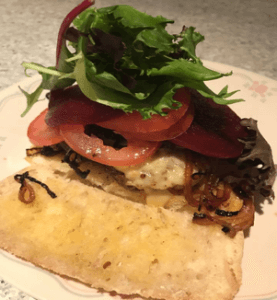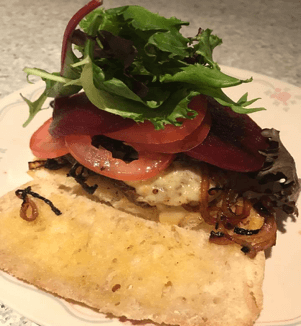 I do a kilo of mince (in 2 batches, adding YIAH seasonings to the mixture to spice them up to our liking) and shape them into 12 patties so I can freeze 6 (raw) for another time. The Soft Butter Rolls (Thermomix Basic Cookbook) bake during the first 20 or so minutes of the wedges being in the oven, and are then cool enough to cut open and pop back in the oven with some sliced cheese during the last 5 minutes of the baking time. While the patties and bacon cook in the grill press, I brown some onions with a flavoured balsamic vinegar and fry an egg for each burger – keeping them warm in a thermoserver. Everyone then makes up their own burger with salad ingredients (lettuce, tomato, beetroot) and the sauces they prefer.
Bonus: If you would like to see my step by step process and time breakdown for the burgers click here.
Tip: Thermobexta's Best Ever Potato Wedge seasoning goes perfectly with sweet potatoes as well.
EASY – MEDIUM
Approx. 1.5 hrs
---
SUNDAY
Skinnymixers Mexican Slow Cooked Pork, Refried Beans and Mexican Red Rice Enchiladas with salad.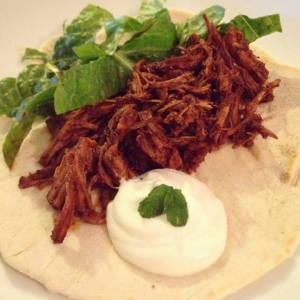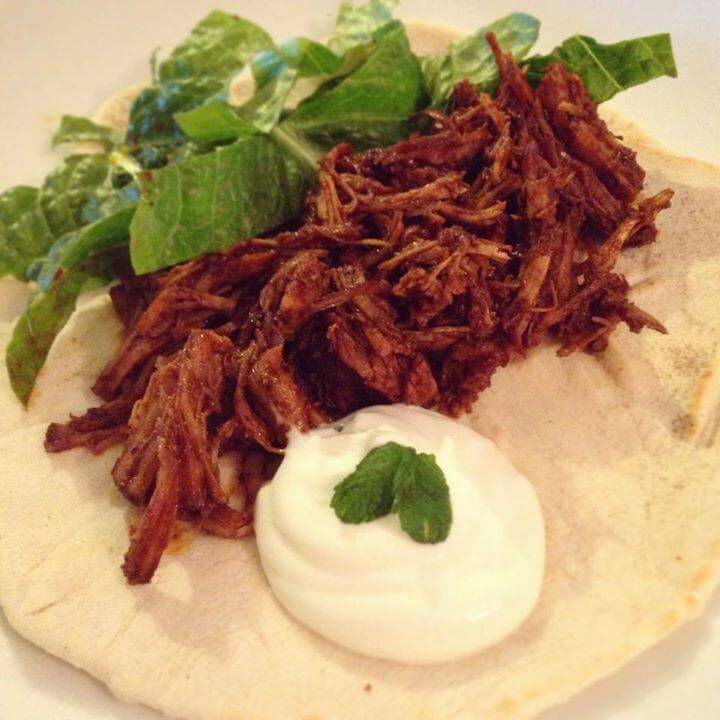 Put the pork on to cook in the morning, and cook the beans and rice close to dinner time. Fill tortillas with shredded pork, refried beans and red rice. Roll into enchiladas and place in an oven dish. Top with passata blended with 2 teaspoons of Nik's Mexican spice mix, top with grated cheese and bake for about 20 minutes.
Serve with sour cream, lettuce and tomatoes from Saturday's burgers and extra salad ingredients.
Tip: If you have any leftovers that you won't use, simply freeze portions of the shredded pork in snaplock bags for use in jacket potatoes. For this meal plan we will be using it on pizza later in the week.
MEDIUM
6 hrs
---
MONDAY
Creamy bacon and broccoli fettuccine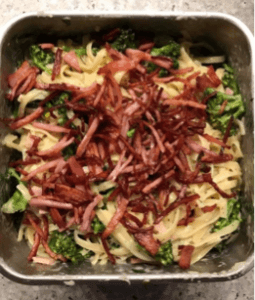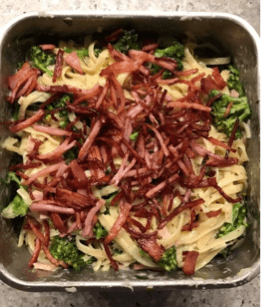 This is quick, easy and flavourful and works just as well with fresh pasta and frozen broccoli. Not only is this pasta very kid friendly but it is a great budget meal the whole family will love.
I found this dish was a Thermomix dinner that I kept cooking over and over again, so I thought I would share it with everyone on the Thermomix Recipe Community.
Please leave me a comment if you love it too.
Tip: You can adjust the vegetables to whatever you have in the fridge.
EASY
40 mins
---
TUESDAY
ALTOA Malaysian Satay Chicken and Non-Fried Fried Rice.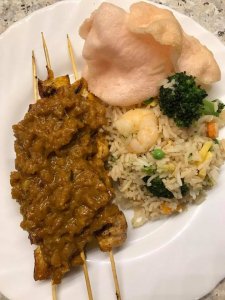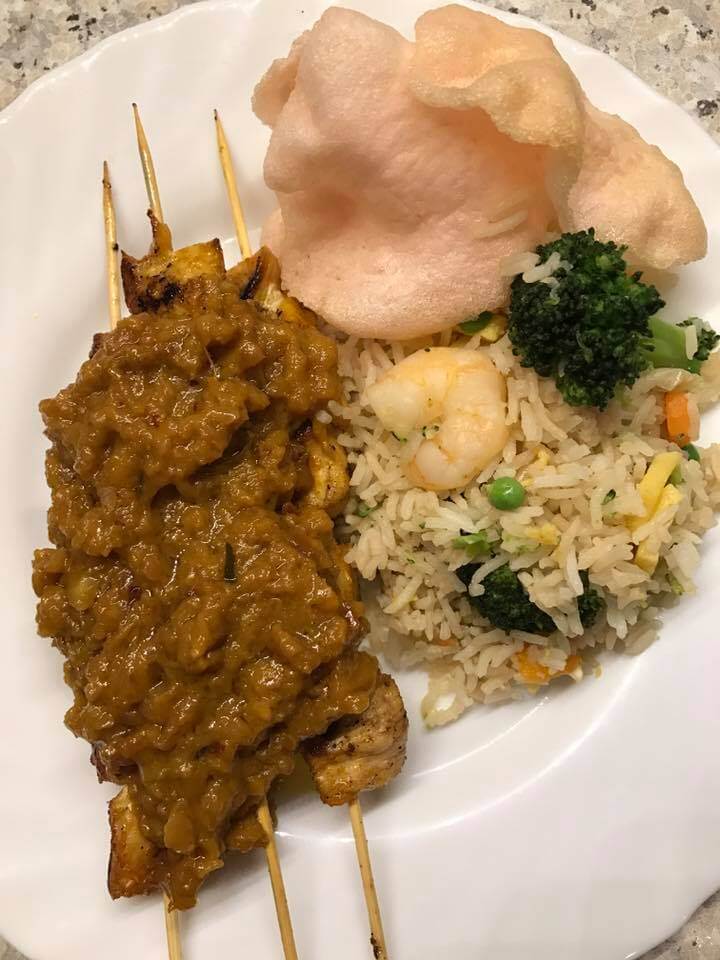 The Malaysian Satay Chicken from 'A Little Taste of Asia' is a favourite in our house. If you don't know if your children will like the satay sauce, you can quite easily serve the sauce on the side. Also if you are short on time you can simply pan-fry the chicken pieces in some coconut oil and not add them to skewers.
I like to serve it with Quirky Cooking's Non-Fried Rice, as it makes a large amount to feed the tribe and the vegetables can be adjusted to whatever I have in the fridge.
Tip: If you don't use all the Satay Sauce you can freeze the remaining amount for use on pizzas. I don't ever have this problem though!
EASY – MEDIUM
1 hr
---
WEDNESDAY
Mexican shredded pork pizzas (yoghurt dough base)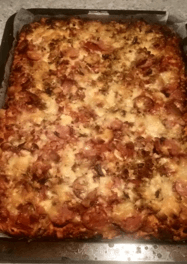 Yoghurt Dough:
375g greek yoghurt
440g SR Flour
Mix on Speed 3 for 15 seconds, then 3 minutes on the dough/interval setting. Press out onto a rectangular cookie sheet / baking tray and top with pizza sauce, leftover shredded pork, tomatoes, red onion, capsicum, jalapenos and cheese. Bake for about 30 minutes.
Tip: Keep a stash of pre-grated cheese in your freezer as well as portions of the Skinnymixer's Pizza Sauce, for a quick dinner.
Easy
Approx. 1 hr
---
THURSDAY
Grain Free Chicken Parmigiana, sweet potato mash, steamed veg.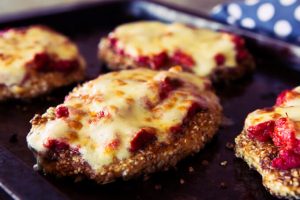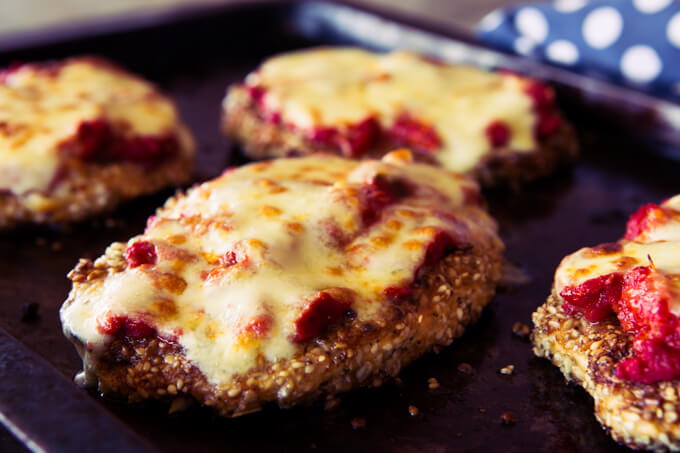 I double the mixture and make 9 large parmies which leaves one each for the boys to take for lunch! You can steam your veg in the varoma while the mash is cooking.
Tip: If you wanted to be super prepared you can make the parmies in advance and freeze the patty / sauce separately. If you don't need them to be grain free or gluten free you can use breadcrumbs.
EASY – MEDIUM
Approx 1 hr
---
FRIDAY
ALTOI Bhuna Gosht, Chickpea Curry and Jeweled Coconut Rice.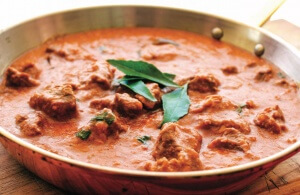 Cook the bhuna gosht in the slow cooker by following the Slow Cooker Tips on the website, and cook the jeweled coconut rice in a rice cooker while the chickpea curry is cooking in the Thermomix.
The spicy chickpea curry is a favourite of mine as it is incredibly tasty and budget friendly. It is a great recipe to cook when the fridge is looking a bit empty. If you do end up cooking it, I'd appreciate if you left me a comment on the recipe community.
Tip: This is fantastic with the Palak Raita for a full friday night curry feast. Make some Palak Raita in advance and keep in the fridge until ready to serve.
MEDIUM
6 hrs
---
If you have any go to meals for large families, please comment below 🙂