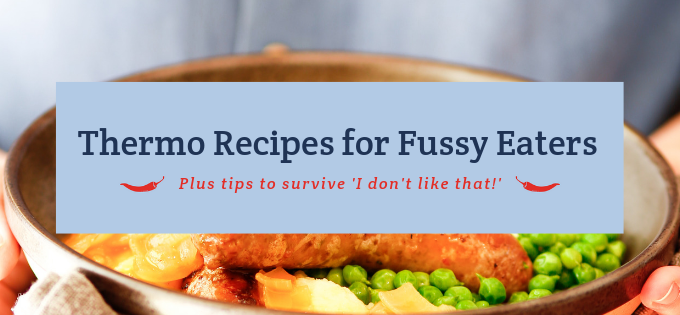 Thermomix Recipes for Toddlers. This blog post is purely based on my own personal experience of surviving the last 6 years with a fussy eater aka the Turdler. I thought I'd share my tips and tricks that I have used to remain sane (ish) and some of the favourite Thermomix recipes for Toddlers (or older) from our community that have conquered fussy eating children and of course some compulsory fails. The term 'turdler' is used out of a place of affection and sometimes you just need to vent/laugh about your battles with a stubborn, fussy toddler… in a safe place surrounded my other parents facing the same battles.
The Beginnings of 'I don't like that!'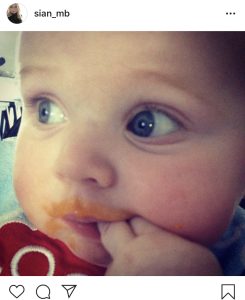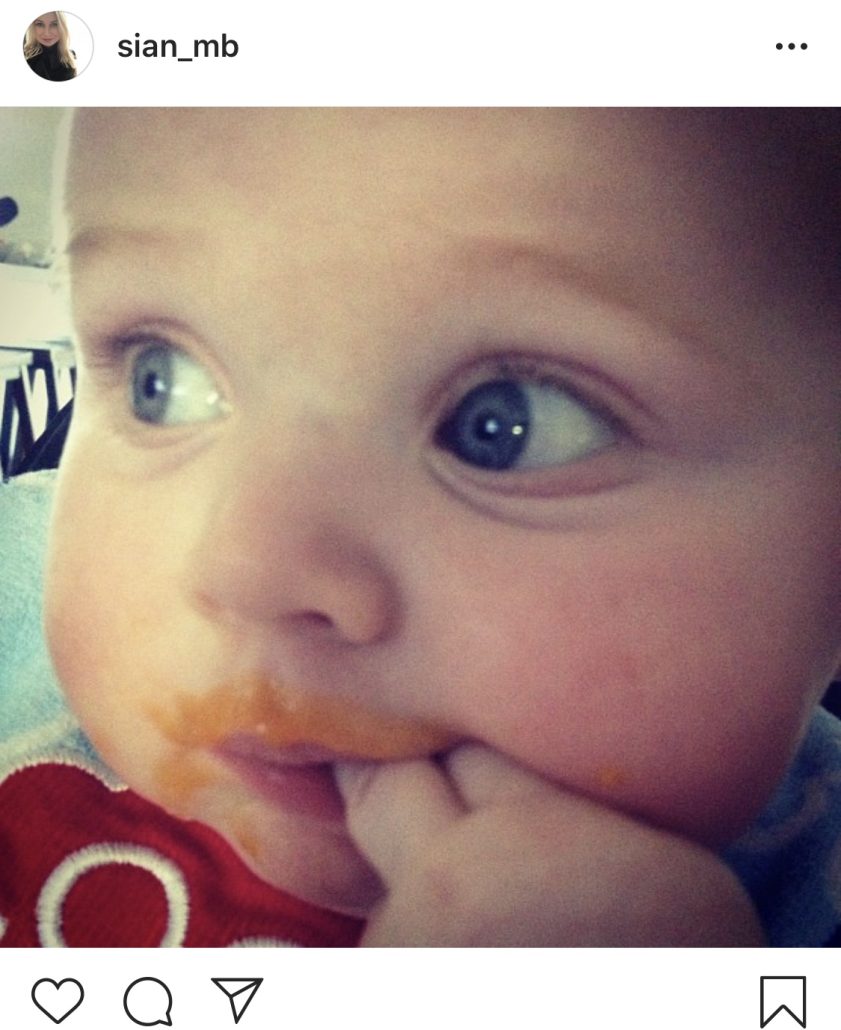 Looking back I have tried to pinpoint where the fussiness began, when I first heard "I don't like that".
I remember the days of finishing work at the office at 6pm and rushing home to pick up the toddler from day care to put him through his meal and bath time routine. With two full-time working parents in the household you revert to whatever is easiest for the toddler to feed themselves and the dinners that receive the least amount of resistance. Everyone is tired by 6:40pm and I found myself giving in to the toddler demands… Sausages with tomato sauce, avocado and a boiled egg WITHOUT any trace of egg yolk. Sound familiar?
A Mum on a Mission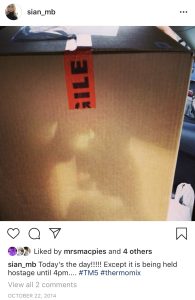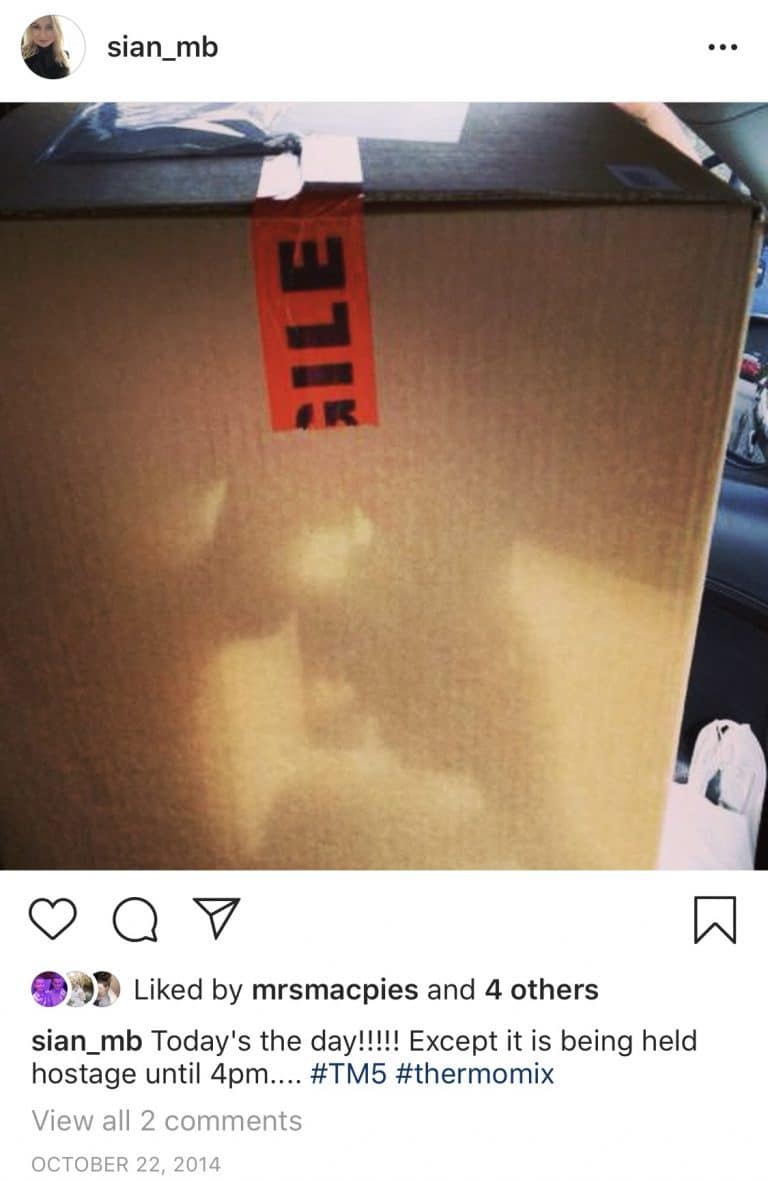 Weekends I would be trying everything to try to get the turdler to eat different things… so much money and food wasted. His mouth would clamp shut, unless of course it was a treat from nanny. I spent countless hours looking into different allergies, intolerances and sensory issues… thinking something was wrong as he struggled with formula when he was a baby and being constantly sick from day care. It was actually this research that I first discovered what a Thermomix was and that I HAD to have one – the only problem was I was told I wasn't allowed one.
For 12 months I used a high-speed blender for every possible thing I could to prove that I would use a Thermomix – justified by the single fact that it would help sneak more vegetables into the Turdlers diet. I would make big batches of Spaghetti Bolognese with vegetables blitzed through and portion in the freezer – basically the only dinner he would eat consistently without complaint other than sausages, avocado and egg white. Eventually I was given the green light to get a Thermomix for my 30th Birthday (it was a big investment for new home owners). Hurray! I could finally make all these amazing recipes I had been lusting after and of course found my way to Skinnymixers.
Looking back I feel like it was those early days of survival, giving in to the very tired toddler with a repetitive dinner routine that led to setting the scene for the fussy eater. The second time around I was committed to making sure a wide range of tastes and textures were experienced – this was my Foodie Baby who is now 3 years old and can handle more chilli than her brother.
"I Don't Like That."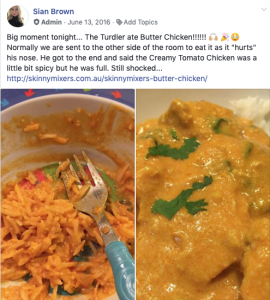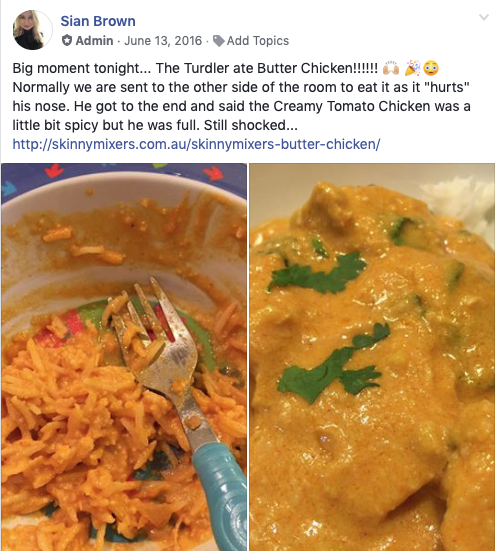 By the time I got my Thermomix I had a Turdler on my hands, we even had to eat our Butter Chicken on the other side of the house as it "hurt his nose to smell it".
I spent hours searching for the perfect Thermomix recipes for toddlers, that were nutritious, delicious and that I could cook after a busy day at work or batch cook on the weekend. I started making everything from scratch and spent way too many weekends in the kitchen making food that would ultimately end up in the bin.
Something I discovered was that I had more success with recipes from Skinnymixers than I ever did with the Recipe Community or other cookbooks. So I started using the recipe index http://skinnymixers.com.au/index/ as my menu planning guide and never looked back.
The Most Recommended Thermomix Recipe for Toddlers
I had such high hopes for the Thermomix Macaroni Cheese with a Twist, so many other parents had success with their fussy eaters. Being full of hidden vegetables, freezer friendly and the recipe making sooo much food… I was excited to add it to our meal rotation. The Turdler hated it. I think I got him to eat two mouthfuls, before I was left eating Macaroni Cheese for a week. In hindsight I should've known better as he didn't like cheese (I know, I know… what kid doesn't like cheese?!?). My advice to make sure you get the best results for this recipe…
Make sure you chop your vegetables small and check that they are fully cooked before blending. If they are slightly firm you will pick up the texture of them in the sauce.
The cheese used makes up the flavour, so make sure you use a mild flavoured cheese or your child's favourite.
If you are dairy free – use this recipe instead: skinnymixer's Dairy-Free Cheesy Spelt Pasta
If you want to make an adult version adding crispy chorizo and wholegrain mustard is delicious.
Dinner Marketing 101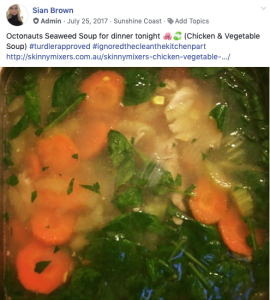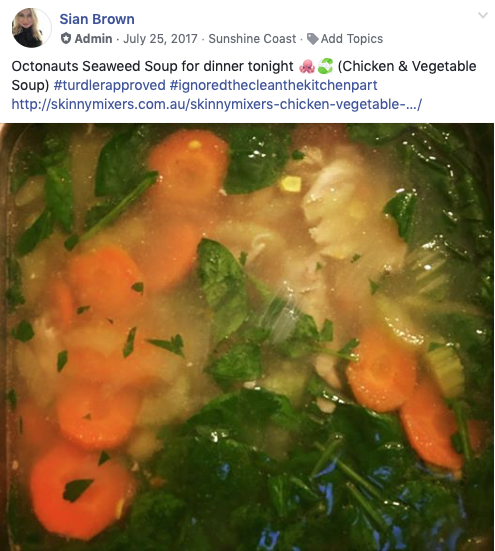 Spending so much time in the Skinnymixers Community I noticed it wasn't just great recipes, but also a wealth of knowledge from so many mums who have been through the battles before and even won the wars.
Surely after 4 years of doing marketing at university I could persuade a 2.5 year old to eat delicious healthy food?!? I started having successes using some Jedi-mum techniques as the kid got older.
Change recipe names to be fun or include their favourite TV Shows/fictional characters
Never use the word Curry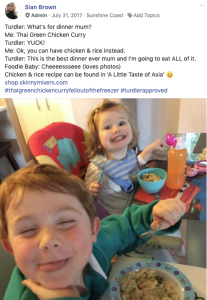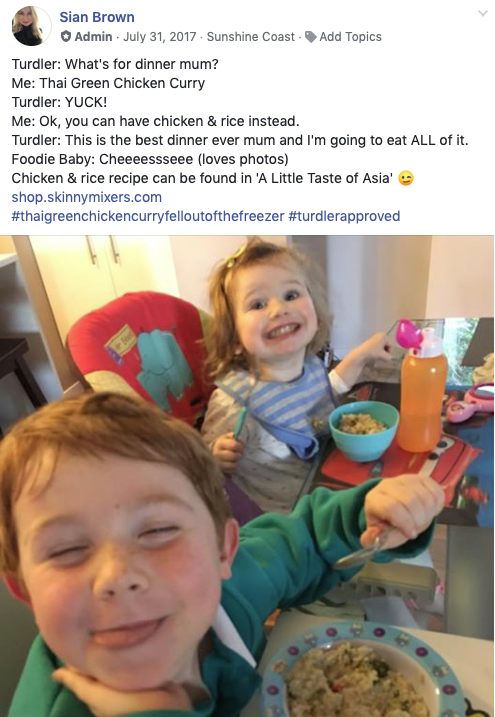 IF I wanted to try and run the gauntlet of having a mild curry for dinner (there are only so many nights of spaghetti a mum can take!).
I learnt quickly to NEVER EVER say the word CURRY or anything spicy related. Always simplify the name and make it sound really mild like Creamy Chicken and Rice.
Butter Chicken became Creamy Tomato Chicken, Coconut Curried Sausages became Creamy Sausages and I think you get the picture…
I always make it on the mild side, as I can add chilli on top but I definitely don't feel like making a second dinner after the first one is rejected due to fire in their mouth.
Getting the kids involved in the kitchen and interested in cooking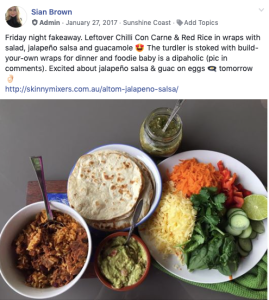 I found if I needed to try a new recipe, getting the kid actively involved in making dinner could help reduce the friction in them trying new things. I also tell them that they need to have 3 mouthfuls before declaring they 'don't like it'. Also one of the favourite dinners in our household is 'Make your own wraps' night – putting a big plate of salad that they helped prepare in the middle of the table with some protein. Some of our favourites are:
Hidden Vegetables plus Not-so-hidden Vegetables.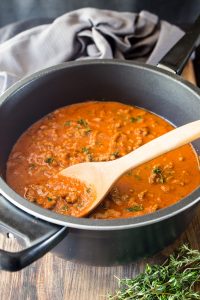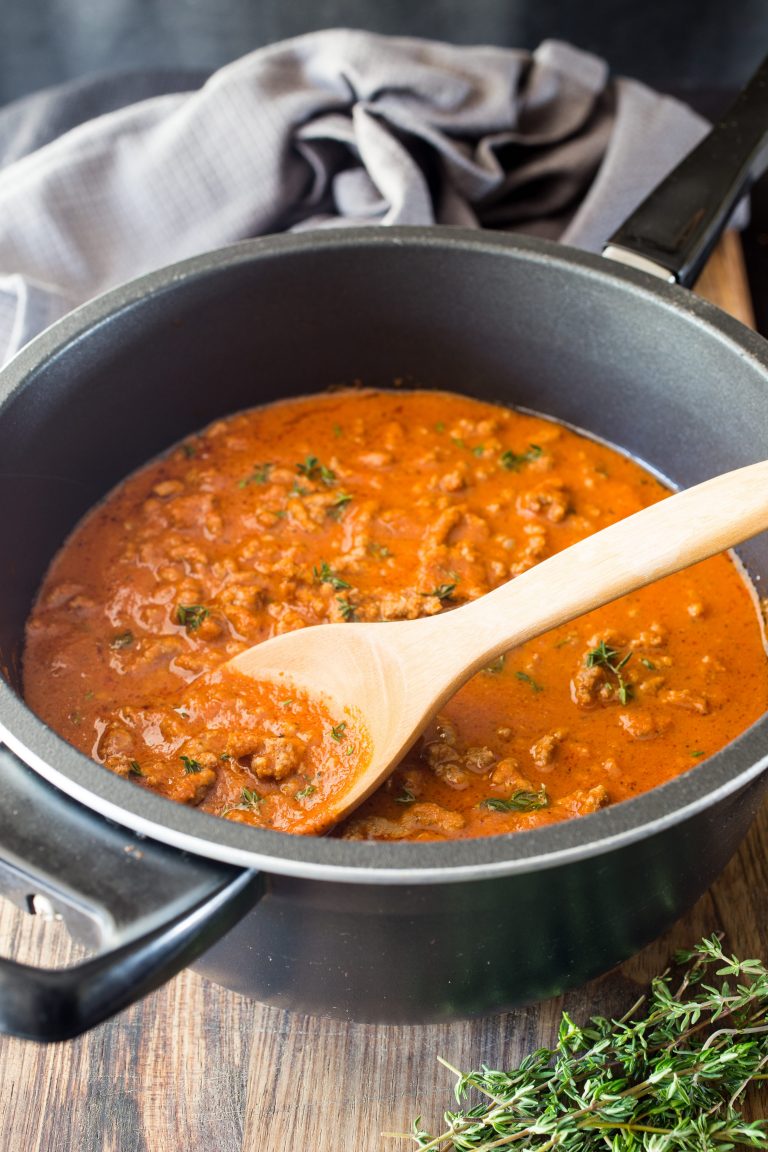 I've seen the hidden vegetable argument played out so many times on social media. Team Hidden Vegetable vs the parents soapboxing that the children should just eat what is on their plate. Personally I like to add hidden vegetables into the recipes I cook – it is great for using up old vegetables in the fridge and if it means the kids get a little extra goodness each day it helps give me a little mummy win. I also serve other vegetables with the hidden vegetables.
Green Hulk Smoothies are great for increasing hidden vege intake. I like to add baby spinach, avocado, carrots, cucumber into smoothies that are filled with the sweetness of fruit or baby spinach and avocado into chocolate smoothies. You don't taste the baby spinach, just watch the colour change when adding with berries lol. The THMIII: Tropical Fruit Drink recipe is perfect changing to a green smoothie.
THMII: Family Chunky Bolognese with Hidden Veg – this recipe is great for batch cooking as it uses 1kg of mince and freezes well.
THM: Healthy Carbonara Sauce – I often use frozen cauliflower for this recipe to keep the costs down. I use it as a base sauce and add the egg yolks, a little cheese and make the most epic hidden vege lasagne with the above Bolognese sauce.
skinnymixer's Pizza Sauce – I always add old, sad vege like zucchini, carrots, spinach, red capsicums into this sauce and freeze in portions for pizza night or lunchbox pizza scrolls.
skinnymixer's Grain Free Chicken Nuggets

Fish Fingers with Hidden Vege

skinnymixer's Silky Sweet Potato Mash – I like to add other vegetables into the mash to hide in the orange of the sweet potato ie. cauliflower, peeled zucchini, pumpkin.
skinnymixer's Aussie Meat Pie Filling – I often cook a double batch on the stovetop to add a heap of blitzed vegetables.
ALToIT: Pumpkin & Ricotta Cannelloni – even pumpkin haters will love this!
THMIII: Bacon, Cheese & Chive Quiches – yep you guessed it I add spinach
Sausages will always be a winner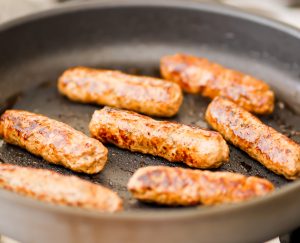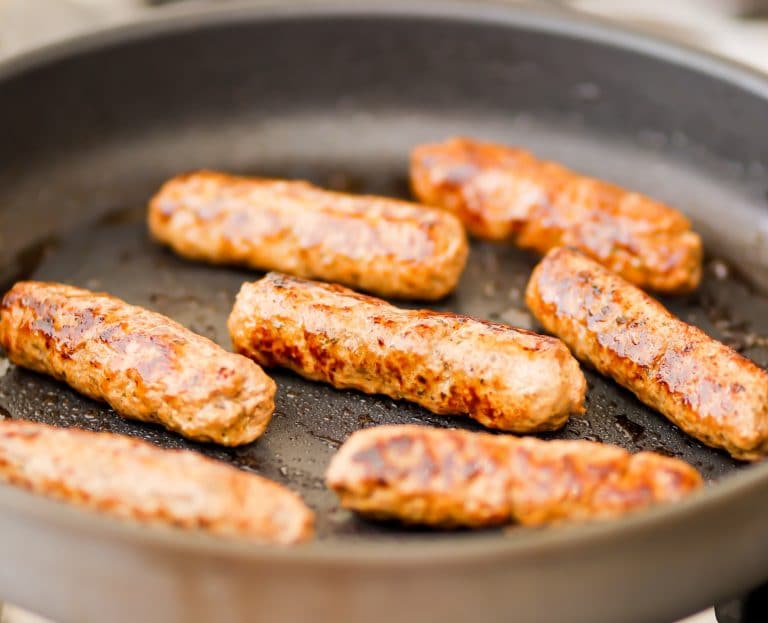 In this household sausages still reign supreme. But these days I get to enjoy sausages the Skinnymixers way.
From the Skinless Sausages in THMIII that I know aren't full of preservatives, the ridiculously tasty Coconut Curried Sausages (I use 1 Tbsp of Babas) or the All in One Sausage Dinner with the most delicious tomato onion gravy that you can serve on the side to avoid any complaints from your fusspot.
Adapting recipes to your needs
Don't be afraid of changing / adapting a recipe to your needs. If you are concerned feel free to ask in Skinnymixers – there are no silly questions!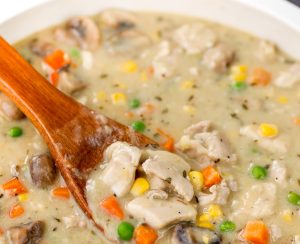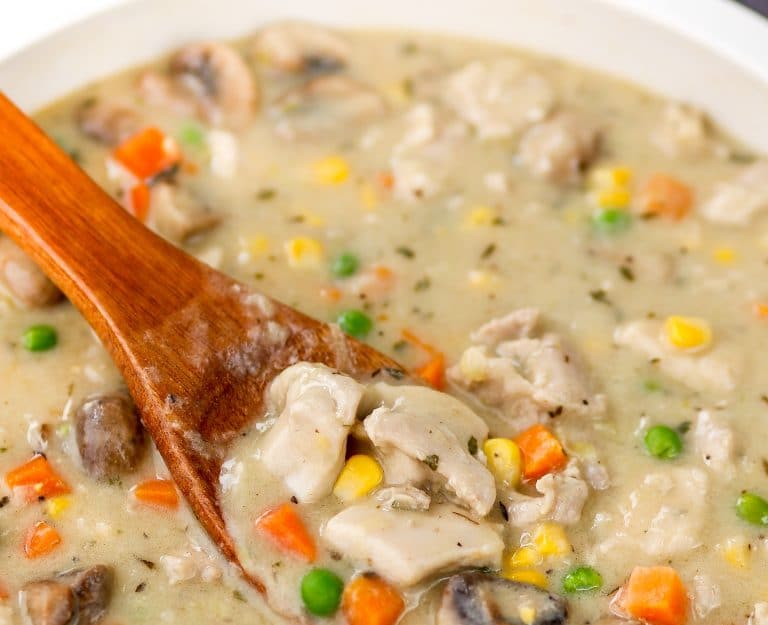 Most children are sensitive to spice, so feel free to omit or decrease chilli, curry powder, cayenne pepper or even larger amounts of black pepper. You can switch smoked paprika to mild paprika if they don't love the strength of smoked paprika.
Or even if a recipe calls for mushrooms… you have the power to not put them in 😉 My kids love the Creamy Chicken Pie Filling on Silky Sweet Potato Mash with bacon instead of mushrooms.
My kids also love the Speedy Beef Stir Fry but find it a little spicy, so I replace the birdseye chillies with a red cayenne chilli and reduce the ginger a little.
Survival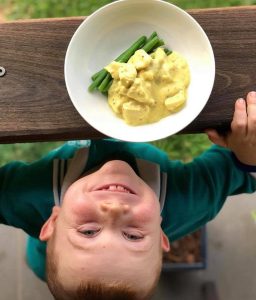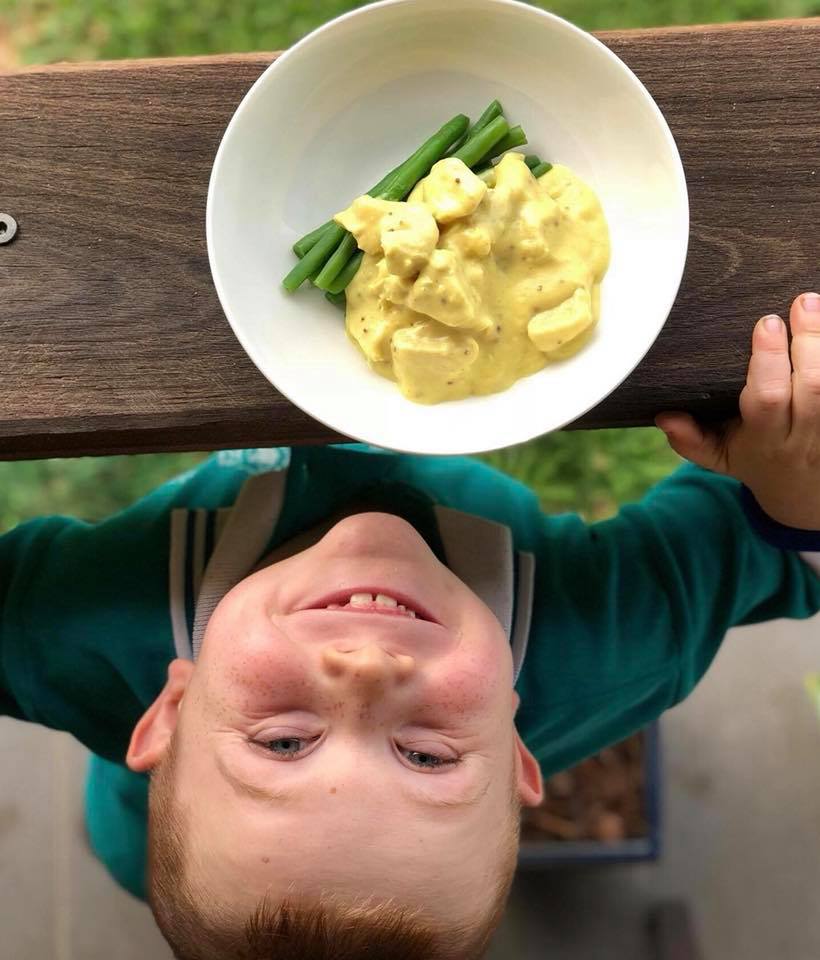 Honestly it is just about survival, these precious years will pass and they will be a teenager driving themselves to McDonalds in no time at all. Everyone is different and doing their best. If you see a cry for help from a fellow parent, be kind, tell them they are a great parent for caring so much and maybe share a recipe that worked for you.
My turdler recently turned 7 years old and his tastebuds are definitely changing and he is more adventurous with food. He now actually eats potato salad, sometimes likes lettuce, is obsessed with mustard (hello Honey Mustard Chicken!) and pickles and get's excited when we are testing new recipes for the new cookbooks. His favourite dinner is now the Baked Risotto from A Little Taste of Italy or the Peri Peri Chicken. He still has nights where he is exhausted from a big day at school and tries to tell me it is too spicy or doesn't like it. I give him my best "eat your dinner or go to bed" look and he either finishes his plate or decides he's had enough to eat. I know if he is hungry, it will be eaten.
Most weeknights we will eat a meal from The Healthy Mix cookbooks so if you are looking for family friendly weeknight favourites – these Thermomix cookbooks will be on high rotation.
If you have any funny stories or tips for other parents of fussy eating children, please share them below.
S x