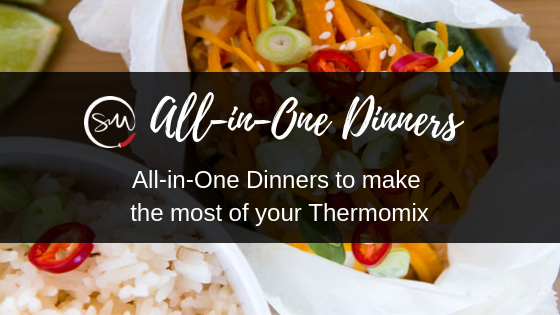 The complete list of Skinnymixers All-in-One Thermomix Recipes. Did you know that you could cook an entire meal in your Thermal Cooker, without making a mountain of dirty pots and pans?
Hi! It's Sian here…
Some people avoid using their Varoma / Steaming Trays as they just aren't sure about how to use them. Sarah has created a super handy Guide to Steaming Trays – which I highly recommend checking out asap if this is you. Last night I was asked for a complete list of All-in-One Dinners in the Skinnymixers facebook Group, so here are the official all-in-one recipes plus a couple of special tips to upgrade recipes to all-in-one because I am lazy and hate dishes!
Coconut Curried Sausages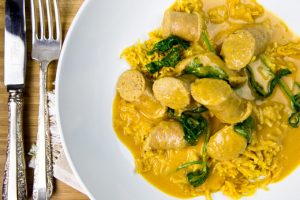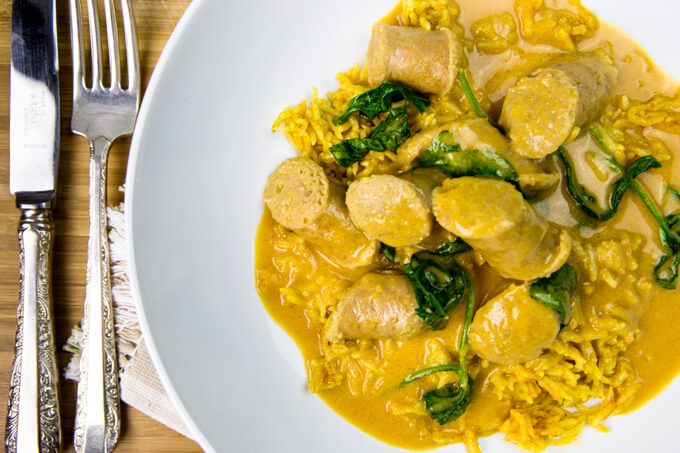 The Coconut Curried Sausages are extremely popular in the Thermomix Community. This not-so-skinny recipe is the ultimate comfort food and is soooo full of flavour. I don't make it very often as it is too easy to over eat and stretchy pants are recommended (you don't even notice that you are on your 3rd bowl :/).
The sausages steam in the varoma (you think you won't like the texture but they are so tender), while the sauce cooks underneath and flavours the rice with Babas Malaysian Meat Curry Powder. This recipe makes A LOT of food and freezes extremely well. The sauce is meant to be runny as the rice soaks up all of the flavour. Make sure that you buy quality sausages or even chicken sausages, as they make a big difference in the overall dish.
Fragrant Asian Fish Parcels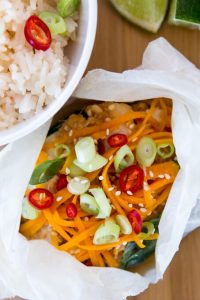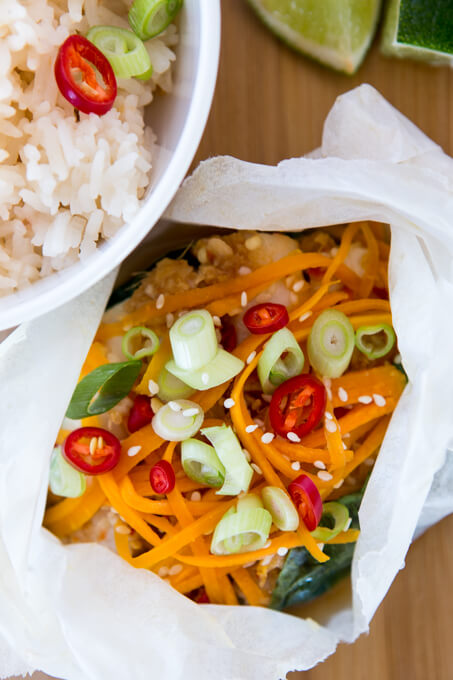 The Fragrant Asian Fish Parcels recipe is the hidden all-in-one gem from The Healthy Mix Cookbook (the one where Nik's eyes follow you around the kitchen).
The fish is wrapped up in baking paper parcels with some of the delicious sauce and the rice is cooked underneath – flavoured by the sauce thanks to the magical 4 words… Without Washing the Bowl.
This dish is on the table within 30 minutes, making it the perfect weeknight recipe. You can also bulk it up by steaming other vegetables in the varoma/steaming trays while the fish and rice book. Don't like fish? Simply swap for some chicken!
This recipe is very low fat and can be made even lower in calories (272 cals) by replacing the rice with cauliflower rice.
All-in-One Chicken Dinner (Website Vs The Healthy Mix Version)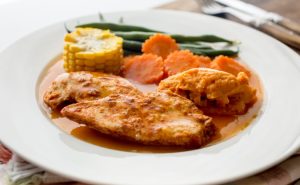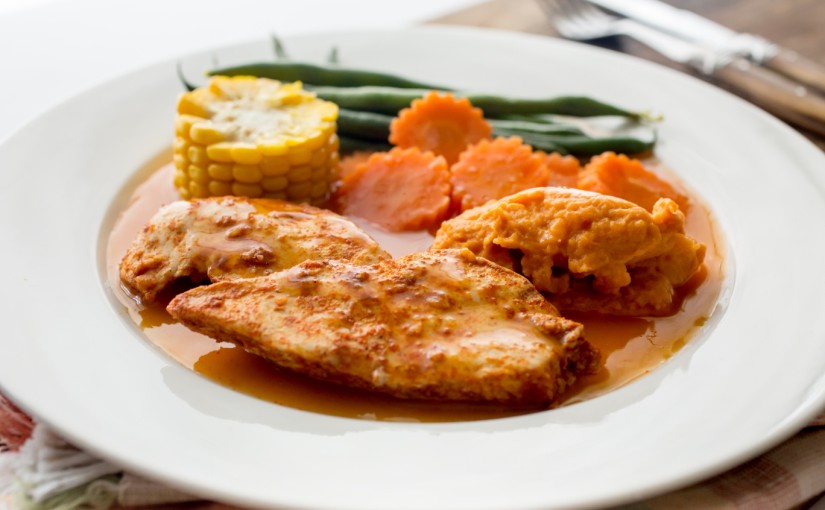 If you haven't tried the All-in-One Chicken Dinner recipes then you are in for a treat! You season the chicken with spices and you cook the delicious gravy in the mixer bowl while your sweet potatoes and chicken cook above.
The All-in-One Chicken Dinner on the website is a delicious seasoning much like a roast chicken and the recipe in The Healthy Mix shows you how to utilise the different Spice Mixes to mix up the flavours in this easy mid-week dinner recipe.
If your significant other is a "Meat and 3 vege" type person, then make sure you give this recipe a go!
Creamy Tuscan Prawn Linguine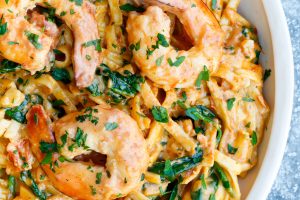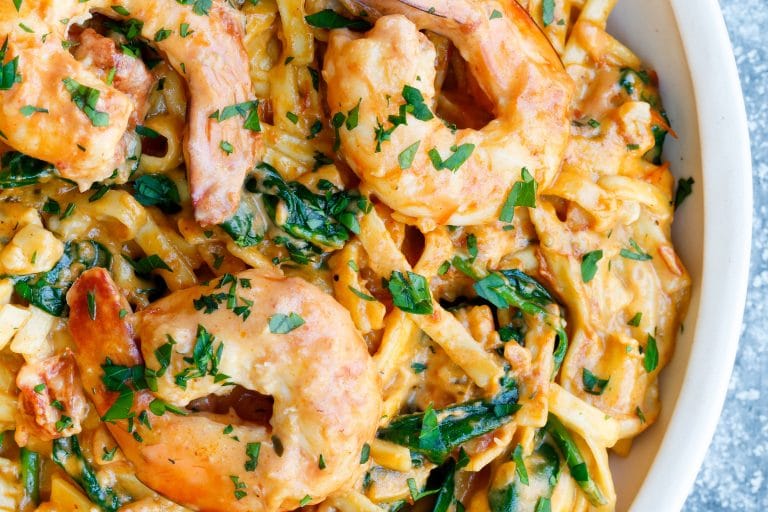 The Creamy Tuscan Prawn Linguine from the cookbook 'A Little Taste of Italy' is the all-in-one pasta that will have dinner on the table in 30 minutes. This pasta is seriously restaurant quality and can be easily adapted to chicken, bacon or even salami pasta.
I like to make this dish when I have no idea what to make for dinner and need it on the table ASAP. My fussy kids absolutely love it… I don't blame them really.
More All-in-One Layered Dinners
Super Fast Stir-Fries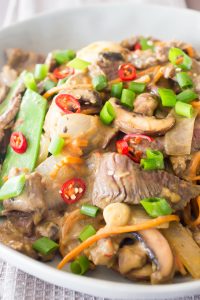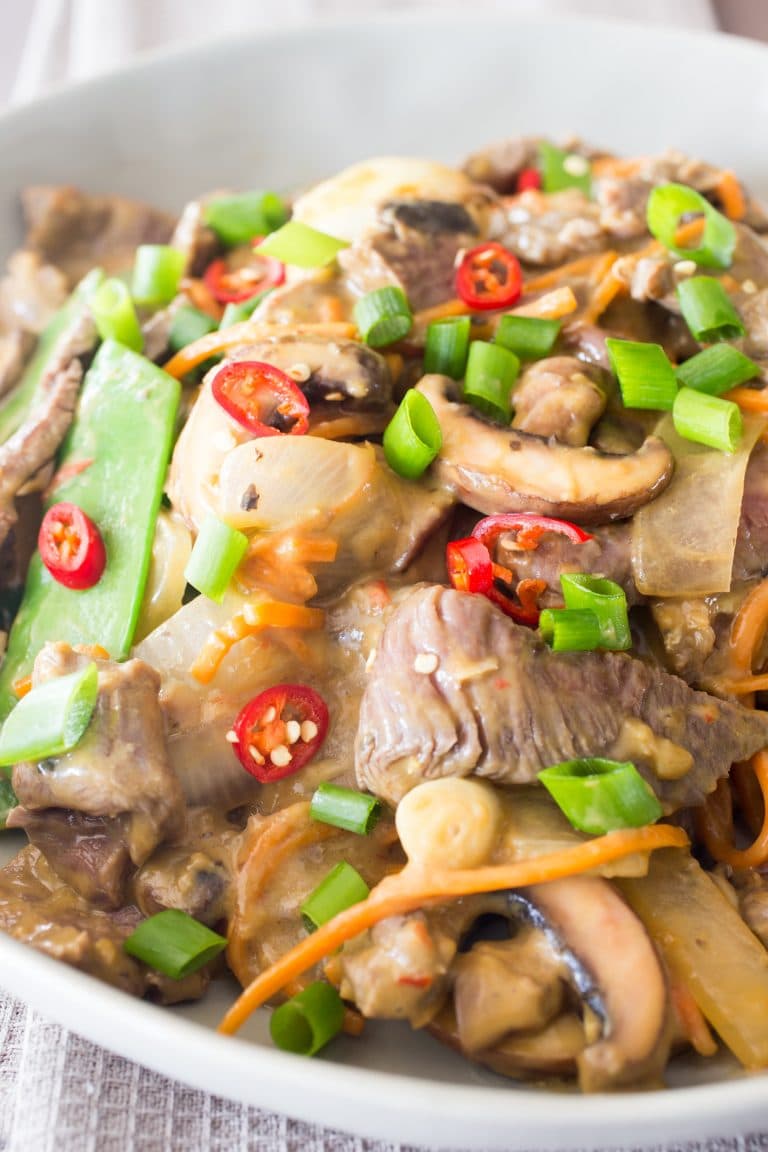 I tend to add cashews, zoodles, cabbage, other stir-fry vege to bulk out these stir-fries and rarely cook rice to go with them.
Flavour Packed Rice
Great All-in-One Recipes for Low Carb Diets
Soups are the Ultimate All-in-One Dinner
Fancy a Little Seafood?
If you make any of these recipes, snap a pic and hashtag it #skinnymixers — We love to see your creations on Instagram & Facebook!
Or Pin the recipe guide for later: