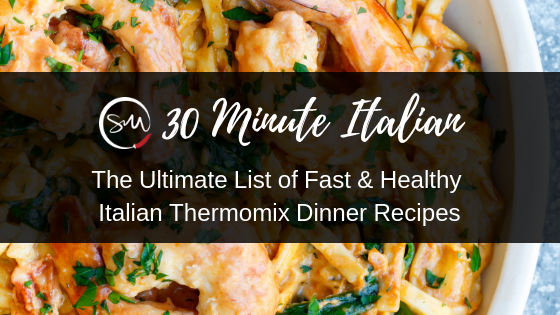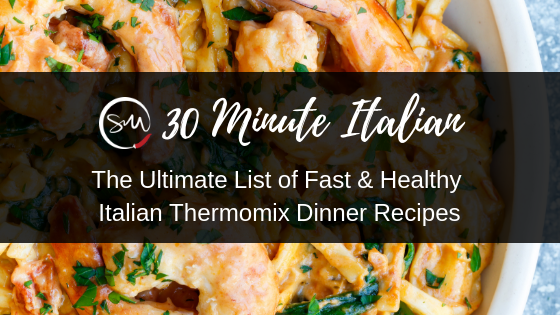 Everyone needs a list of go-to 30 minute Italian dinner Thermomix recipes, especially for those nights that you need a healthy dinner on the table ASAP. This is my list of 30 minute Skinnymixers recipes – hopefully it helps for the nights that you need dinner on the table in a hurry!
Hi! It's Sian here….
This list of 30 minute dinner recipes are faster than getting takeaway and can also be suitable for people needing gluten free, low carb, dairy free or low fodmap recipes. You will notice quite a few of these recipes are from A Little Taste of Italy. We've been a little crazy about everything Italian lately in the Skinnymixers Facebook group with the release of the new book A Little Taste of Italy.
---
QUICK MEALS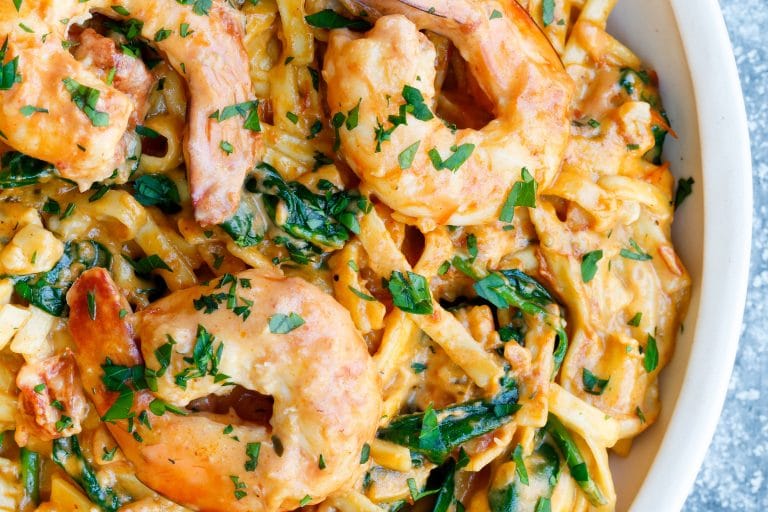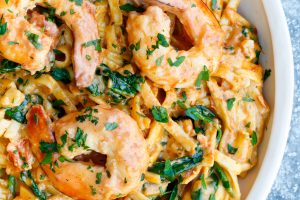 This one-pot wonder from 'A Little Taste of Italy' is restaurant quality dinner, and is ready in 30 minutes.
If you don't love prawns or maybe they aren't in the budget this week, you can change the prawns to chicken, bacon, salami… or even chorizo.
I've also used frozen prawns before for a quick 'I really don't want to go grocery shopping' dinner. You can use other types of pasta also – penne, spaghetti, fettuccini all work. We just recommend that you stay away from the rice based Gluten Free pasta. Or if you have fresh pasta you can omit the water and cook the pasta on the stovetop, then stir through the sauce at the end.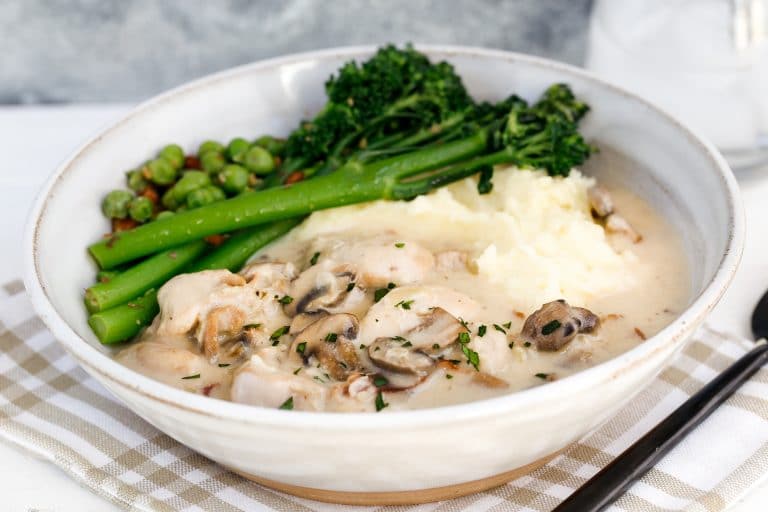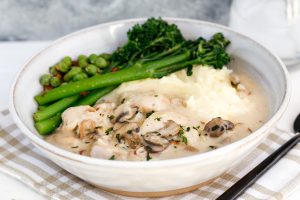 This 18 minute dinner is packed full of flavour and the perfect mid-week meal from the new book 'A Little Taste of Italy'.
Serve with mash, steamed vege, rice, pasta… whatever you feel like having. It is important to not sub the Marsala in it though, it completely changes the taste of the dish. You can buy a bottle of Marsala (most bottle shops in Australia stock 'Boronia') for approx $10 depending on where you live.
If you aren't a mushrooms lover, you can increase your chicken and bacon slightly and add green beans.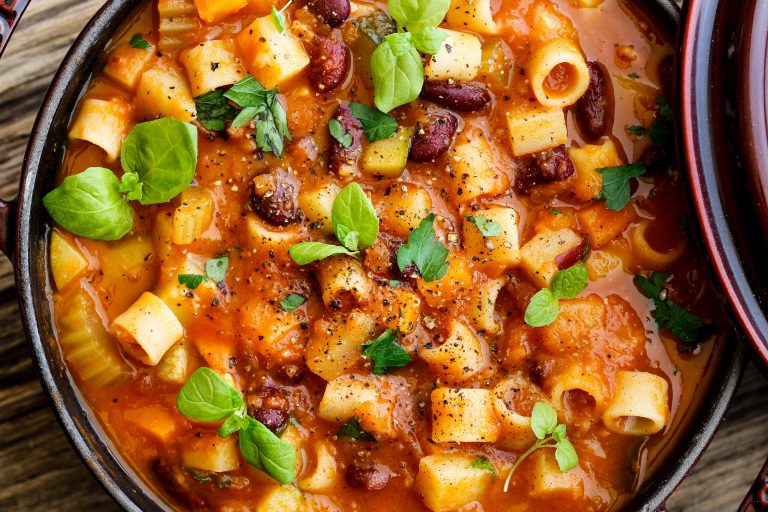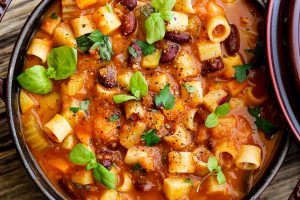 This is one of the most delicious soups that Nikalene has developed and it is super budget friendly!
Also if you have a few sad vegetables in the fridge, it is the perfect 'chuck it all in' meal. If you don't have the kidney beans, then add a can of cannellini beans.
This recipe can easily be made vegetarian, low carb, paleo and low fodmap.
If you love skinnymixer's Bacon & Vegetable Soup the Minestrone Soup from 'A Little Taste of Italy' is even better!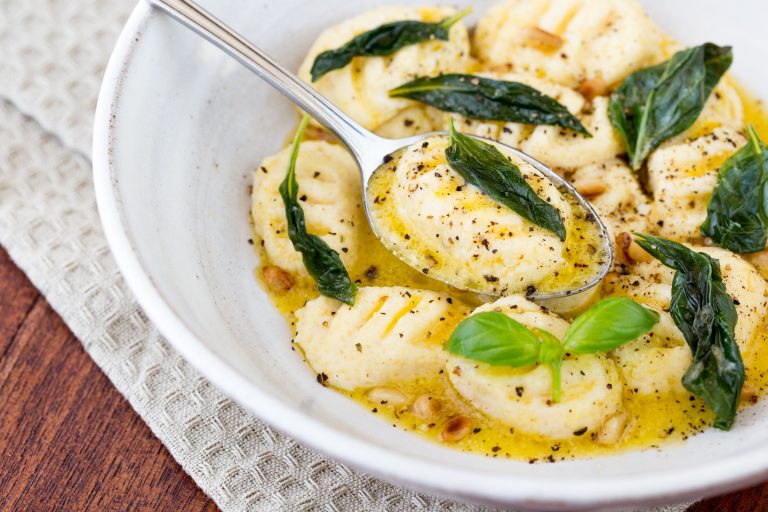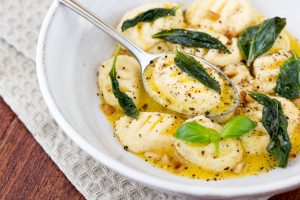 Do you love gnocchi but don't love the carbs that come with it? This low carb ricotta gnocchi is a great alternative to pasta. However if you can have flour, the flour version is incredible.
The key to success is to stick with the ingredients and buy the fresh firm ricotta from the deli and not the tubs. The ricotta tubs have more liquid and your gnocchi will melt when steamed. If this does happen you can still save dinner by letting them cool, rolling and panfrying them gently.
If you feel your mix is too wet – add more almond meal or flour. Gluten free flour works perfectly also.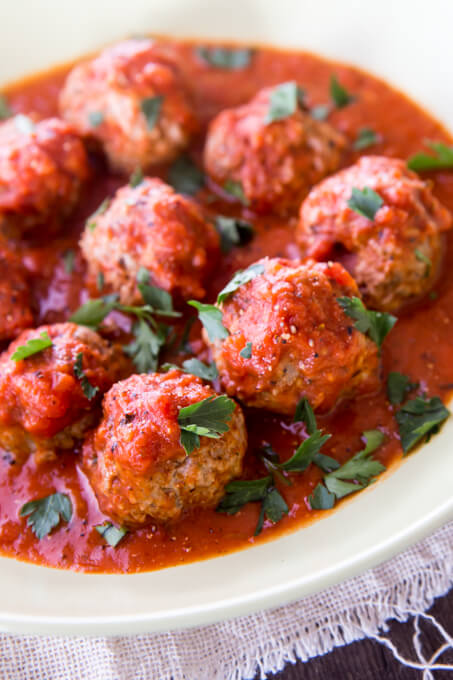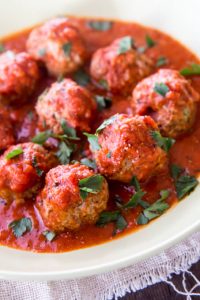 The classic Italian Meatball recipe from 'The Healthy Mix I' uses an Italian Spice Mix to add flavour and cut down on active cooking time.
The Italian Meatballs are a fantastic 20 minute dinner that are popular with kids and can be served with pasta or mash, steamed vege or even salad.
Some #chubbymixers have even been known to serve them as their very own Italian Meatball Subway sandwiches.
So next time you have a free 2 minutes, prepare
If you keep some basic pantry staples ready for the nights that the fridge is looking empty, the Puttanesca can be ready in 20 minutes.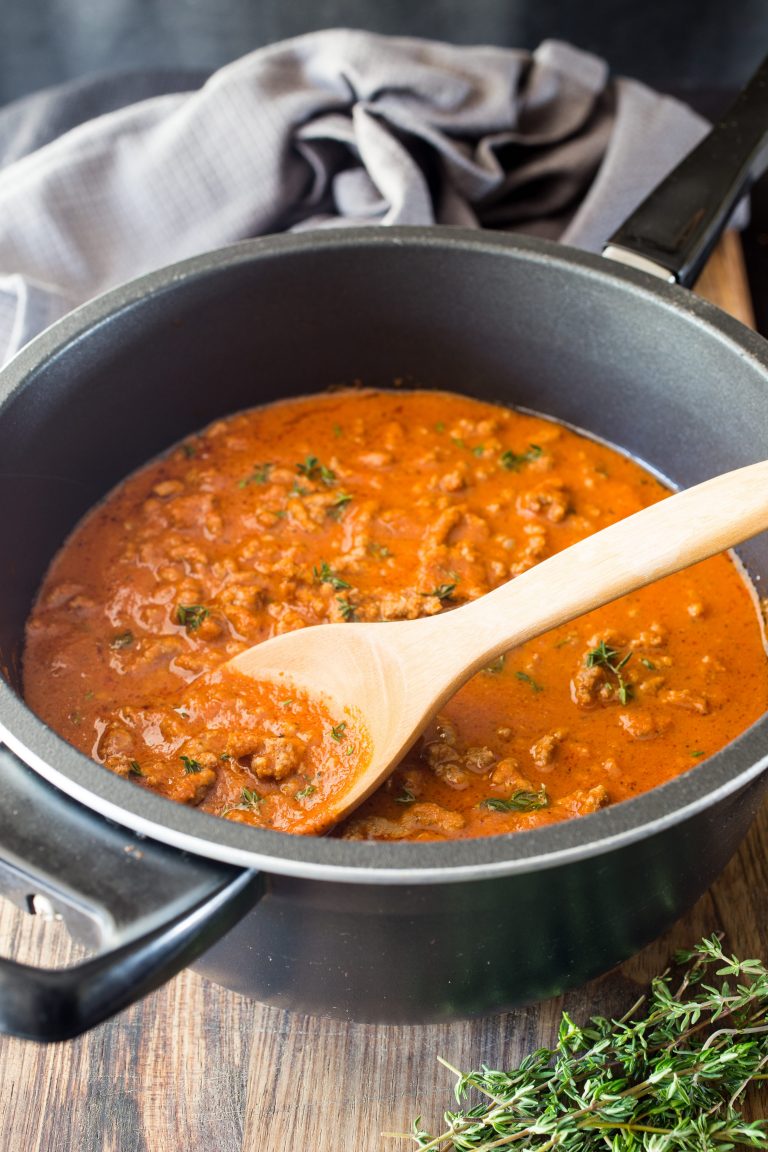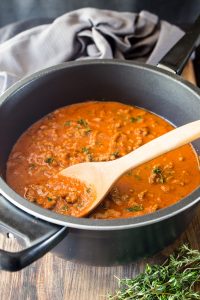 The skinnymixer's Chunky Bolognese is definitely a crowd favourite, but what if you need to cook for more hungry mouths and want to add some hidden vegetables? This version of the Chunky Bolognese cooks 1kg of mince in the large steaming trays and not in the simmering basket.
This recipe is great for kids and to fill your #freezerstash with easy family-friendly dinners.
This recipe takes 25 minutes to cook, is lower in calories and is low carb. Classic Italian flavours, in a fast dinner that you will no longer need to buy pre-made sauce from the supermarket again.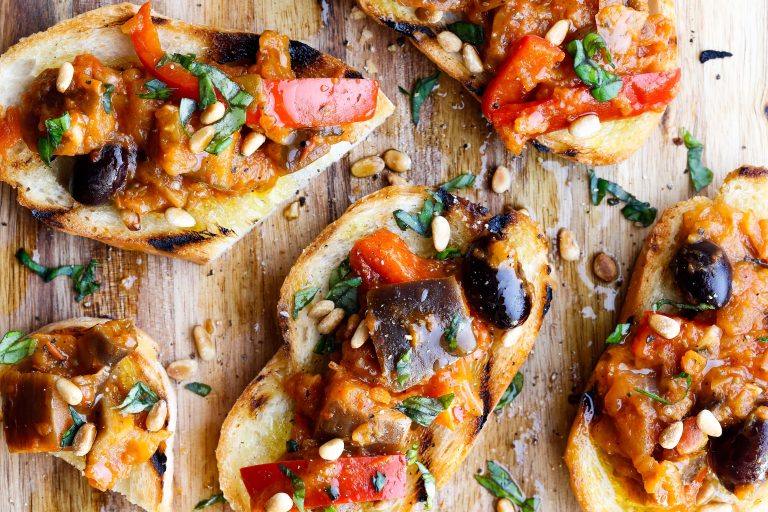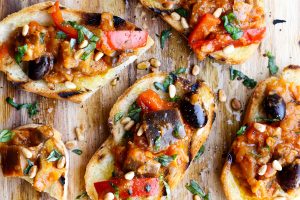 Caponata is a delicious Sicilian eggplant stew, that will pair perfectly with grilled protein of choice.
The best part is that the leftovers are exceptional with eggs for breakfast and makes a delicious addition to a cheese & cracker grazing platter.
Looking for a tasty side to go with your next BBQ or even a quick and easy pan-fried chicken breast?
The Piselli Alla Fiorentina can be made with frozen peas, fresh green beans or cauliflower. Making this side-dish incredibly fast to make and a great option to make a basic meal a little bit fancy.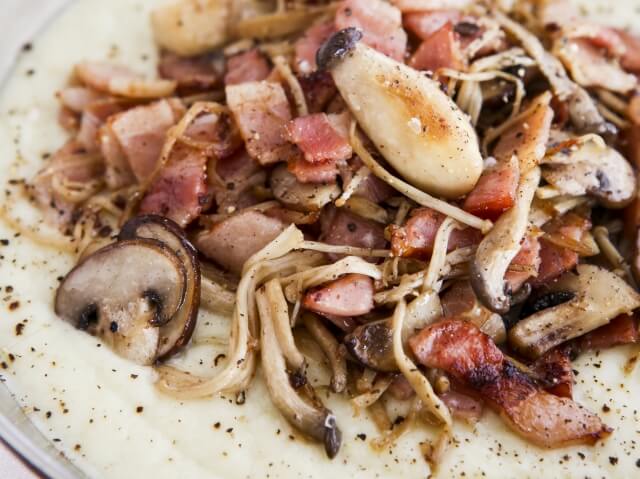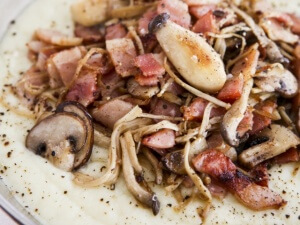 This dairy free, creamy pasta sauce can be made with fresh or frozen cauliflower.
A hit with many mums to get the kids eating more vegetables and fantastic as a base sauce to add your choice of bacon, mushrooms, chicken… whatever your heart desires!
The sauce is a thicker sauce perfect for zoodles. If you are serving it with pasta, you might like to thin the sauce down to your preferred consistency.
The Healthy Carbonara makes the most amazing white sauce for your next lasagna – teamed with the Family Chunky Bolognese with Hidden Vege.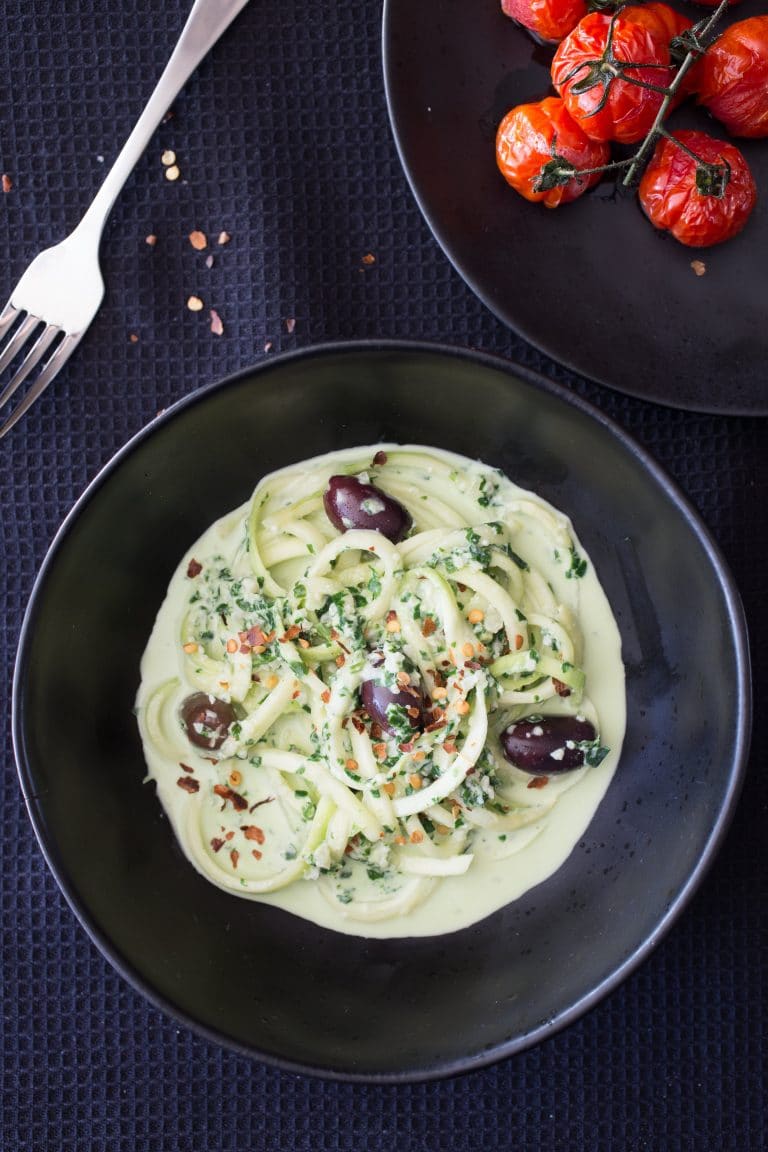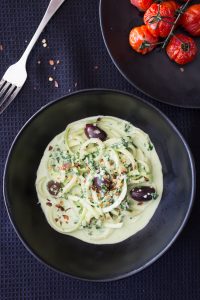 The Creamy Pesto Sauce is the perfect 'I need dinner on the table right now' recipe. Mix through with some pan-fried chicken, bacon, zoodles and you will have dinner on the table in under 15 minutes!
I like to freeze the pesto portion of the recipe and mix it through with the cream, as I can't always locate fresh basil.