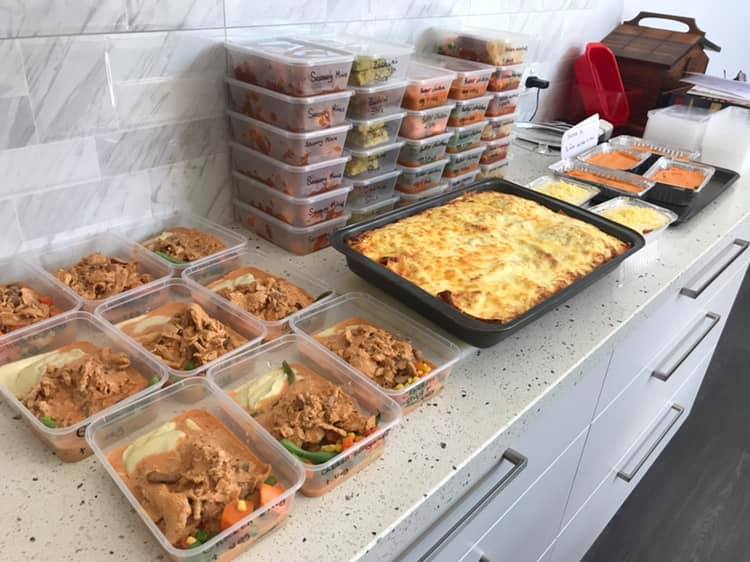 You may have seen a healthy Thermomix Meal Prep post from one of our amazing admins Brooke Williams from Whole Home in Skinnymixers recently. Not only is this meal prep cook up extremely budget friendly, but has plenty of vegetables included.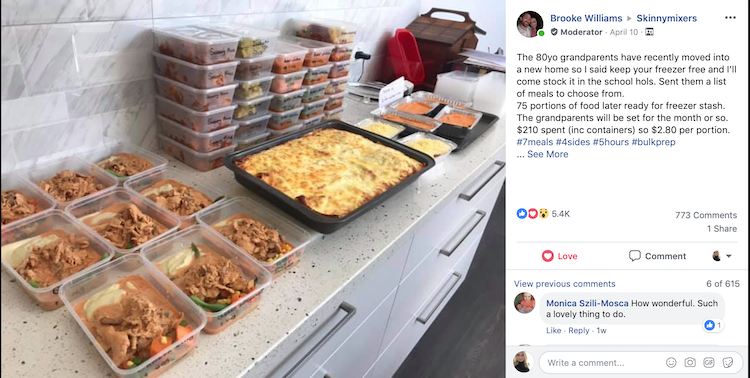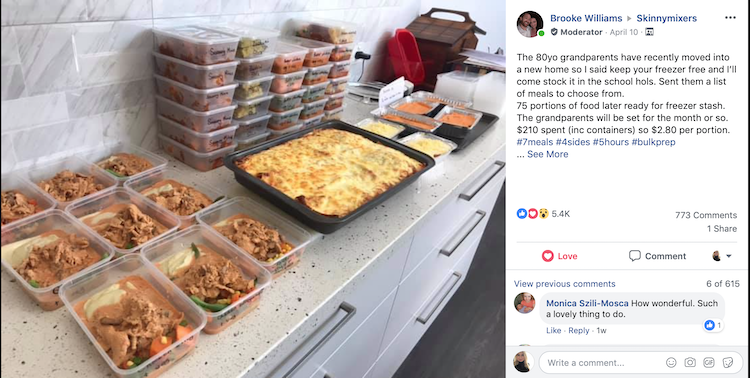 "The 80yo grandparents have recently moved into a new home so I said keep your freezer free and I'll come stock it in the school hols. Sent them a list of meals to choose from.
75 portions of food later ready for freezer stash. The grandparents will be set for the month or so.
$210 spent (inc containers) so $2.80 per portion.
#7meals #4sides #5hours #bulkprep"
Absolutely incredible, right?
Well Brooke has gone above and beyond, by providing the Skinnymixers Community with a step-by-step how to meal prep guide of what she did and a printable shopping list spreadsheet.
Thank you Brooke! (please make sure you show your appreciation by sharing it with everyone that you think would benefit)
Love Nik xx
P.S. If you need a Thermomix Travel Bag – I highly recommend checking out Brooke's website Whole Home & her fantastic Travel bags for TM31 & TM5 that she designed.
Now over to Brooke…
The Bulk Cook Up Day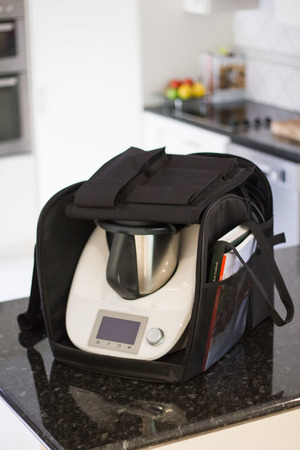 I recently had a bulk cook up day for my 80 year old grandparents to help make mealtimes easier for them. After 5 hrs, 75 portions of food later ready for the freezer stash, they will be set for the month or so for healthy, nutritious meals.
We spent $210 spent on shopping from the butchers and Woolies (inc containers) for all ingredients except for some Skinnymixers Chicken Stock Concentrate (THM1) and Italian Spice Mix (THM1) as they had just moved into their new house. This worked out to a mere $2.80 per portion.
My 9yo kitchen sidekick and I had combed through Skinnymixers and Thermobextas books and websites to come up with a list of freezer and palate friendly (chilli on the down low) meals for the grandparents to choose from.
*** I've included this list at the end of the article for you.***
They chose the following meals and we added some sides as Nan wanted some individual serves ready to go.
Meal Planning
Main Meal Thermomix Recipes
Chicken Stroganoff
I did a single batch but it is a very saucy meal which you can easily pan fry the chicken then combine with the sauce to bulk it out. Served up with
cauli mash
& veg.
Butter Chicken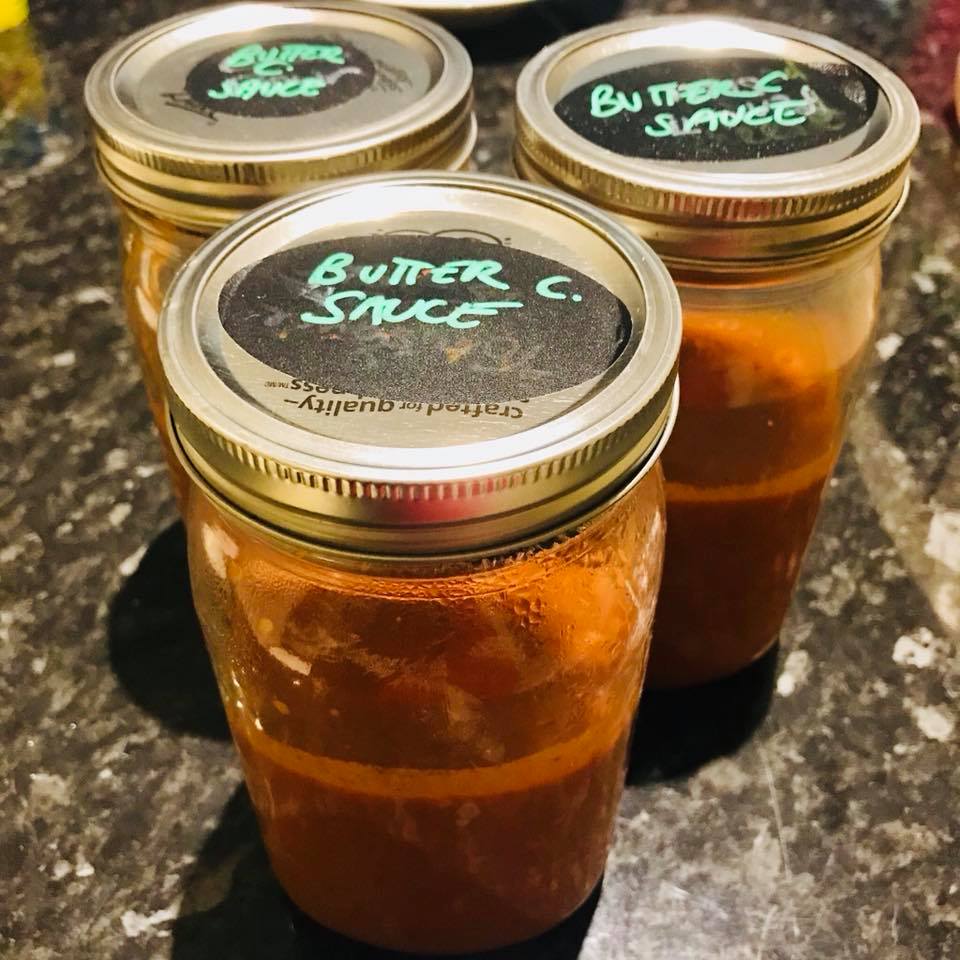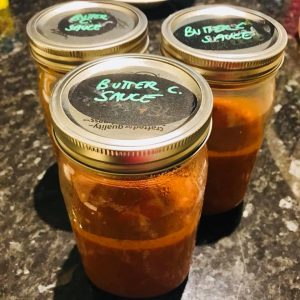 Using the Skinnymixer's Butter Chicken recipe, I doubled the marinade and chicken and pan fried this. We omitted the nuts and used coconut cream. Made the sauce and poured this into the pan for the bulked up meat. You can also safely double the sauce for 4 times meat and marinate if you really want to bulk it. We served the butter chicken up with rice and steamed vegetables.

Savoury Mince
Italian Meatballs
To free up the thermomix we rolled the Italian Meatballs from The Healthy Mix and put into an oven dish, then poured over the sauce and topped with cheese. Served with some penne.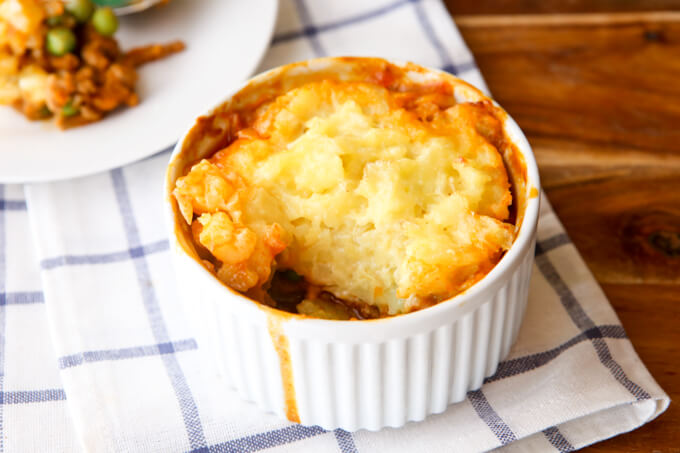 We split this meal into 3 foil containers (double serves). We didn't bake them, as they will be placed in the oven to reheat. Serve with a fresh salad or vegetables.
We chose the meaty option (added bacon) to this recipe. We portioned it up in double serves and will make a quick light meal with a side salad.

First we roasted up a butternut pumpkin to further bulk up the recipe. Using fresh lasagne sheets (versus dry) it is much easier to work with. We made 3 foil container (double serves) unbaked ready to be popped into the oven to finish off and a larger cooked lasagne which will just need to be reheated. For a meaty lasagne you can use the Family Chunky Bolognese with hidden vegetables.
Sides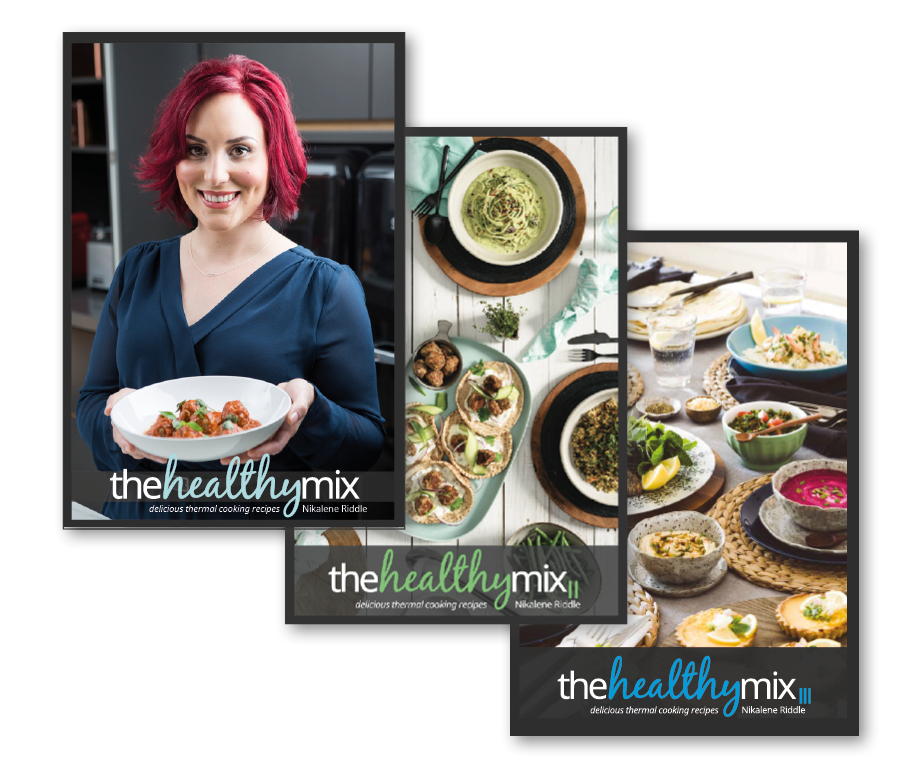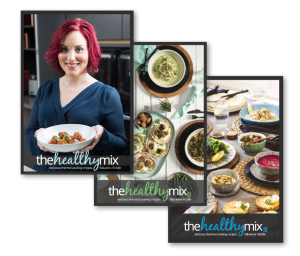 Rice – cooked on the stovetop

Penne – cooked on the stovetop

Steamed veg – cooked in the varoma on top of the cauli mash
What you will need
Planning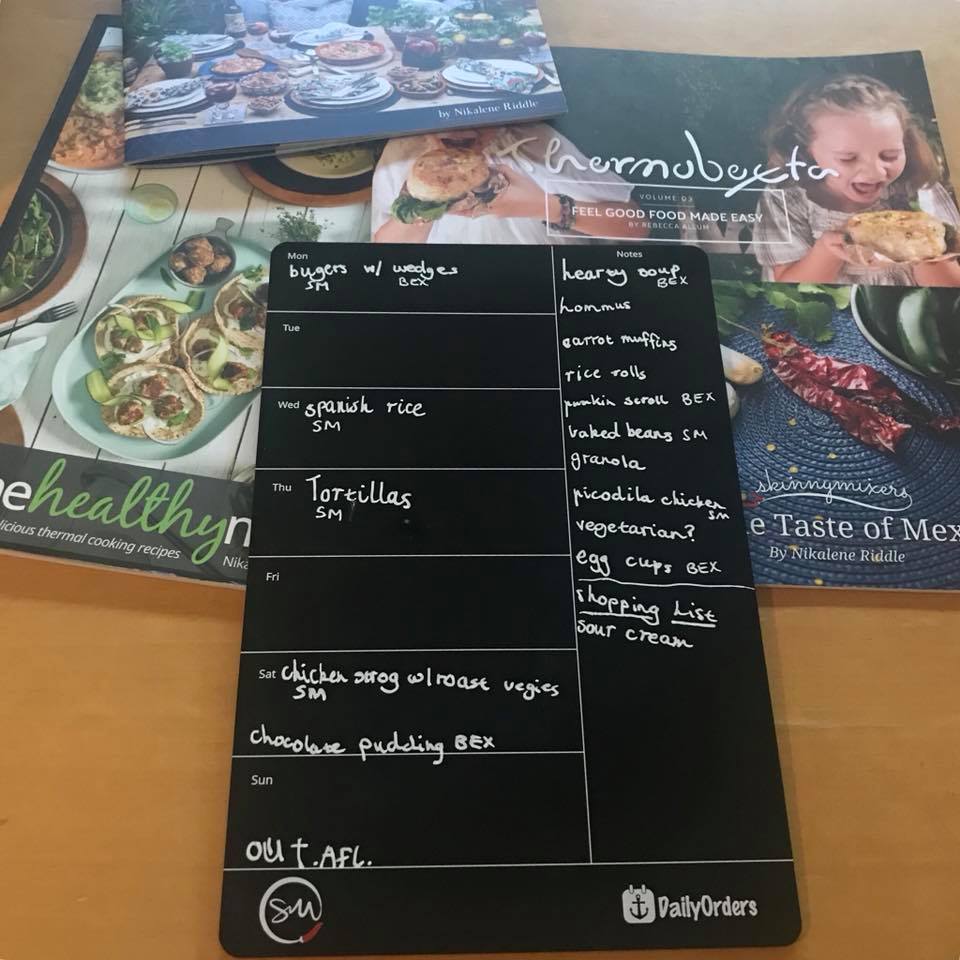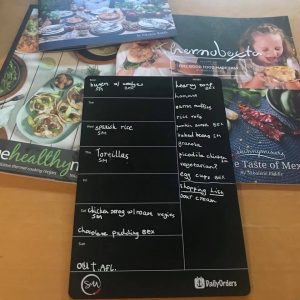 Brainstorm / look through cookbooks or the list of meal prep recipes provided below.
Narrowed down to 6 (but then I overbought mince so added the Shepherd's Pie to the list)
Prepared a shopping list – you can download mine here.
Reviewed fridge, pantry and freezer contents.
Ordered online shopping with Woolworths being delivered the day before and picked up the meat from the local butcher.
Planned the order of what to cook in what thermomix/appliance to best utilise the time
Also don't forget to check the freezer space needed to store the meals.
Shopping List
Download your printable Shopping List spreadsheet when you subscribe to our Skinnymixers Mailing List – click here or the image below.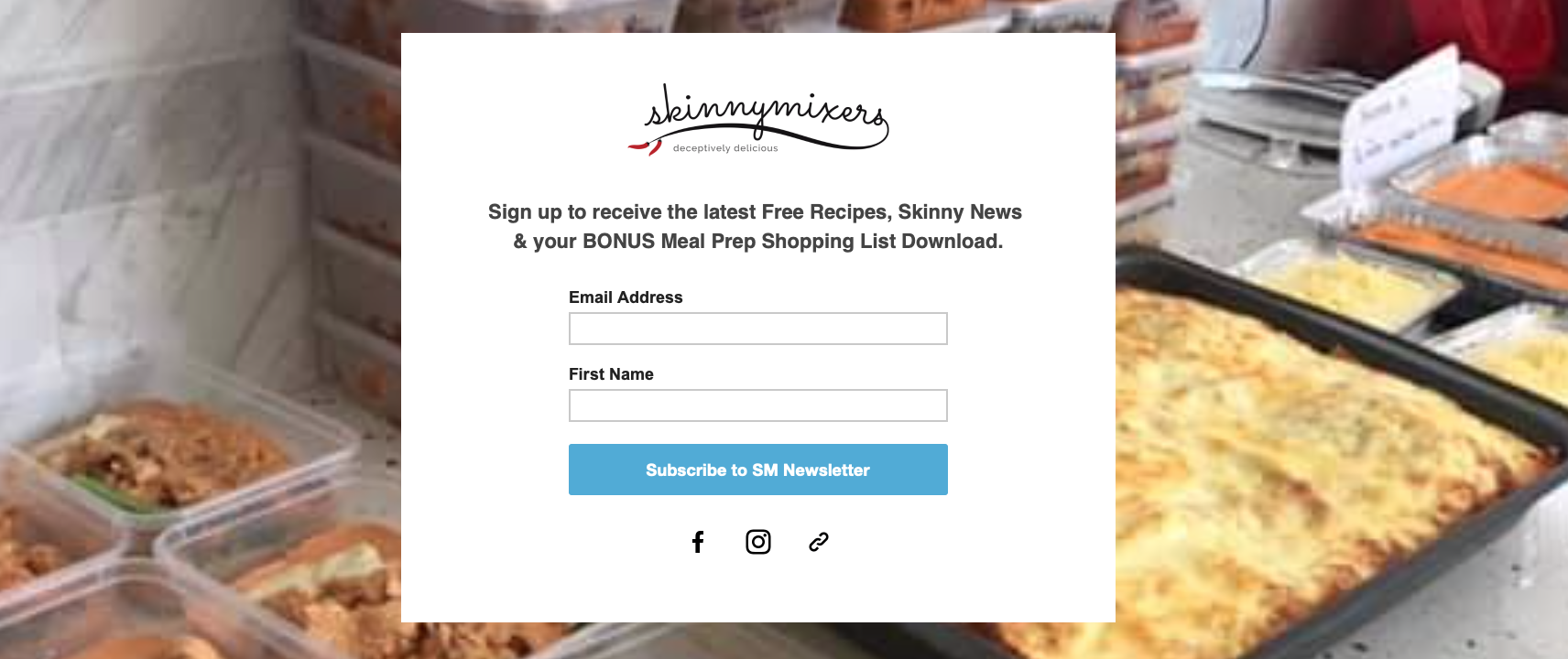 Cooking
Thermomix 1 (TM5)
Butter Chicken Marinade then sauce and then move to pan to fry chicken and combine with sauce
Vegetable lasagne cheese topping and sauce
Chicken stroganoff

Cauli mash with steamed veg on top (using up any leftover vegetables from other dishes)
Thermomix 2 (TM31)
Zucchini slice, oven bake
Meatballs, then move to oven to bake with balls
Rustic Shepherd's Pie
Sweet Potato Mash
Savoury Mince
Non-Thermomix jobs in between
Cut up chicken
Cut & roast pumpkin
Roll meatballs
Prep vegetables
Cook penne
Cook rice
Assemble lasagne and bake large lasagne
Dishes
Serve up & label
Q: May I ask how long it took you 'in total' to prepare and cook all of these meals?
All up this took just under 5 hours including a quick lunch, serving up and clean up.
Q: Cooling?
I allowed the food to stop steaming before dishing up
Q: Container storage?
In my own home I'd use glass containers in larger amounts (4 serves) for my family. If I was to cook again or regularly I'd use some better quality plastic containers instead.
Q: Did you use pumpkin instead of lasagne sheets or you used both?
I used both to pad it out but if you need to be grain free I'd use some grilled zucchini and/or eggplant layers.
Q: Do you have more than 1 thermomix?
Yes, I used 2 Thermomixes with 2 jugs each. You could empty a jug into a container and continue on, 2 jugs each wasn't a must but a luxury.
Q: Can I be your grandparent/can you adopt me?
Sure if you are in Melbourne lol.
Q: Wow must have a huge freezer?
No, they stacked really well and only took 3 drawers of space in a side by side french fridge/freezer.
Other Meal Ideas to Cook Up
Here is a bit of a list Kaylee (my 9yo helper) and I have compiled that are good to freeze and yummy.
Chicken Thermomix Recipes
Beef Thermomix Recipes
Italian Meatballs
Vegetarian Thermomix Recipes
Risotto
ALToS: Spanish Rice (paella)
Vegetable lasagna
Zucchini Slice
Creamy tomato & basil pasta
Sweet potato & black bean burritos
Carrot Fritters
Pork Thermomix Recipes
San Choy Bao
Lamb Thermomix Recipes
Thermomix Side Dishes
Soup Thermomix Recipes
Skinnymixers Pea and Ham

Miso noodle soup
Hearty lentil soup
Chunky vegetable soup
Potato & corn chowder
Other resources that you might find helpful for meal planning: